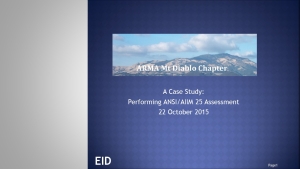 When Dublin San Ramon Services District needed help with their Records Management situation, they turned to Robert Blatt and Virginia Jo Dunlap of Electronic Image Designers, Inc. (EID) to help them navigate the world of electronic content management (ECM). The District selected this team partially due to the fact that Jo was the project editor of the national standard and Robert chaired the committee and wrote many of the national / international standards we all use today. The team began with performing the assessment which was benchmarked against standards, guidelines and best practices from both AIIM and ARMA following ANSI/AIIM 25.   As part of the process, EID assisted the District in identifying specific gaps in their information governance program and developing an actionable vendor neutral plan to implement a trustworthy electronic records management environment.
Robert will be the featured speaker at the Mt. Diablo ARMA chapter meeting Thursday, October 22 to present the case study from Dublin San Ramon Services District and lead a product and vendor neutral discussion on how and why to apply industry standards to the process of performing an assessment of an organization's information management program.
Once Robert and Jo completed the Dublin San Ramon Services District assessment, the public entity asked them to turn their attention to providing the District with project oversight. This gave the District, in effect, an internal resource knowledgeable in ECM design and implementations to guide the team through a successful launch in July. Robert and Jo continue working with the District as they expand into other technologies following the desired "ECM roadmap" selected by DSRSD.
Robert Blatt is the founder and Principal Consultant at Electronic Image Designers, Inc. which is one of the industry's leading content management and workflow consulting organizations.
If you would like to attend the session, please contact the Mt. Diablo ARMA chapter through its website for more information. http://armamtdiablo.org/events/event_20151022.html